CBSE Class 10 Science Handwritten Notes – PDF Download
Here you will get CBSE Class 10 Handwritten Notes of Science divided into Physics, Chemistry, and Biology in a perfect way, This notes will help you to score 100% in your Boards Exams. These are the toppers Notes of CBSE who scored 100 in his CBSE Exams. You will get Science Handwritten Notes of Class 10.

Handwritten notes are very helpful for students to make their own notes with the help of these handwritten notes. Many students don't feel comfortable with typed notes so we provide you handwritten notes which are very helpful in your study.
Understanding the need of the students, Study Rate offers CBSE Class 10 Science notes pdf which is created by toppers and cover all important topics in the entire NCERT Syllabus, from Chemical Reactions and Equations to Management of Sources of Energy. These notes are prepared to keep in mind the level of preparation required by the students to excel at board exams. Thus, studying from these notes would lead the student to score maximum marks in the board examination.
Class 10 board exams hold a prominent space in a student's academic life. In this year, students tend to eliminate all their distractions and focus only on their board exam preparation. With five subjects to prepare for, not every student finds all the subjects easy or interesting. Rather, many students find class 10 Science a challenging subject in which they are required to burn the midnight oils. At this time, students are advised to study from really good revision notes and practice as much NCERT as they can.
Want to Crack Boards & NTSE, Learn from Kota top Faculty – Start Now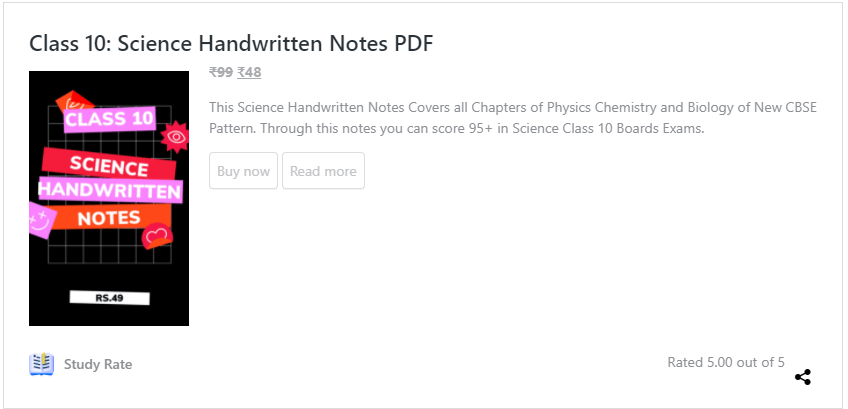 Class 10 CBSE Science Handwritten notes pdf in English
This notes covers the chapters which is given below:
Chapter 1: Chemical Equations and Reactions
Chapter 2: Acid bases and Salts
Chapter 3: Metals and Non-Metals
Chapter 4: Carbon and its Compound
Chapter 5: Periodic Classification of elements
Chapter 6: Life Processes
Chapter 7: Control and Coordination
Chapter 8: How do organism reproduce
Chapter 9: Heredity and Evolution
Chapter 10: Light : Reflection and Refraction
Chapter 11: Human eye and colorful world
Chapter 12: Electricity
Chapter 13: Magnetic effect of electric current
Chapter 14: Sources of Energy
Chapter 15: Our environment
Chapter 16: Management of natural resources