Here you will get CBSE Class 10 Handwritten Notes of Science Maths and Social Science in a perfect way, This notes will help you to score 100% in your Boards Exams. These are the toppers Notes of CBSE who scored 100 in his CBSE Exams. You will get Science Handwritten Notes of Class 10 at FREE of cost and download the PDF. These notes cover every chapter in a detailed way with examples and their Solutions.
For Class 10 Notes Science, Maths, Social Science PDF. Get Free Class 10 notes From Our Websites. On this website, you find Free of cost Handwritten Notes Of the best faculty and these notes are free for You. If you want to download free notes then Go and download free.
CBSE Class 10 Handwritten Notes – PDF Download
Class 10 board exams hold a prominent space in a student's academic life. In this year, students tend to eliminate all their distractions and focus only on their board exam preparation. With five subjects to prepare for, not every student finds all the subjects easy or interesting. Rather, many students find class 10 Science a challenging subject in which they are required to burn the midnight oils. At this time, students are advised to study from really good revision notes and practice as much NCERT as they can.
Class 10 CBSE Science Handwritten notes PDF in English
This notes covers the chapters which is given below: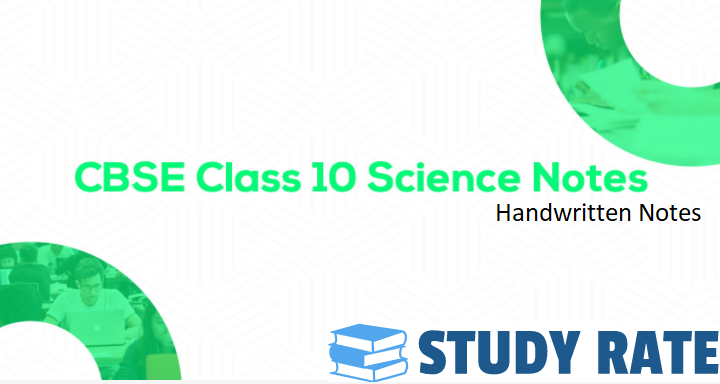 Chapter 1: Chemical Equations and Reactions
Chapter 2: Acid bases and Salts
Chapter 3: Metals and Non-Metals
Chapter 4: Carbon and its Compound
Chapter 5: Periodic Classification of elements
Chapter 6: Life Processes
Chapter 7: Control and Coordination
Chapter 8: How do organism reproduce
Chapter 9: Heredity and Evolution
Chapter 10: Light : Reflection and Refraction
Chapter 11: Human eye and colorful world
Chapter 12: Electricity
Chapter 13: Magnetic effect of electric current
Chapter 14: Sources of Energy
Chapter 15: Our environment
Chapter 16: Management of natural resources
Class 10 CBSE Maths Handwritten notes PDF in English
This notes covers the chapters which is given below:
Chapter 1 Real Numbers
Chapter 2 Polynomials
Chapter 3 Pair of Linear Equations in Two Variables
Chapter 4 Quadratic Equations
Chapter 5 Arithmetic Progressions
Chapter 6 Triangles
Chapter 7 Coordinate Geometry
Chapter 8 Introduction to Trigonometry
Chapter 9 Some Applications of Trigonometry
Chapter 10 Circles
Chapter 11 Constructions
Chapter 12 Areas Related to Circles
Chapter 13 Surface Areas and Volumes
Chapter 14 Statistics
Chapter 15 Probability
Class 10 CBSE Social Science Handwritten notes PDF in English
The Chapters includes in this Social Science Handwritten Notes are:
History – India and Contemporary World II
Chapter 1: The Rise of Nationalism in Europe
Chapter 2: Nationalism in India
Chapter 3: The Making of a Global World
Chapter 4: The Age of Industrialisation
Chapter 5: Print Culture and the Modern World
Geography – Contemporary India II
Chapter 1: Resources and Development
Chapter 2: Forest and Wildlife Resources
Chapter 3: Water Resources
Chapter 4: Agriculture
Chapter 5: Minerals and Energy Resources
Chapter 6: Manufacturing Industries
Chapter 7: Lifelines of National Economy
Political Science – Democratic Politics II
Chapter 1: Power-sharing
Chapter 2: Federalism
Chapter 3: Democracy and Diversity
Chapter 4: Gender, Religion and Caste
Chapter 5: Popular Struggles and Movements
Chapter 6: Political Parties
Chapter 7: Outcomes of Democracy
Chapter 8: Challenges to Democracy
Economics – Understanding Economic Development
Chapter 1: Development
Chapter 2: Sectors of the Indian Economy
Chapter 3: Money and Credit
Chapter 4: Globalisation and the Indian Economy
Chapter 5: Consumer Rights